Strategies to save for a down payment on your home.
Considering homeownership? One of the biggest expenses to save for when becoming a homeowner is the down payment. Many buyers believe they need to put at least 20% down on a home when, in reality, that's not always the case.
In 2021, the typical down payment for first-time homebuyers was 7%.* At LMCU, we've financed many homes for as little as 3% down. On a $250,000 home, 3% down is $7,500. It might seem like a lot, but if you start saving now, you can chip away at it little by little.
Once you've determined your down payment goal, it's time to start saving using these strategies:
Maintain a goal-oriented sub-savings account or open a Money Market Account or Certificate of Deposit. Track your progress by assigning your dollars a purpose. One way to help you make the most of your dollars is to create a sub-savings account for the down payment on your home. You can easily create sub-savings accounts in LMCU's online banking.
Consider using interest-earning, short-term accounts.
As your savings grow, consider transferring a portion of funds into an interest-earning, short-term account such as a Money Market Account or a Certificate of Deposit, where funds remain untouched for a specified amount of time. This can earn you higher interest than keeping all the money in your savings — just make sure the time frame matches up with your desired timeline for purchasing your dream home.
Find savings in your monthly budget.
Review your budget monthly for excess expenses. For instance, you could try cutting back on some of those "extra" expenses we all have, like a morning coffee run, Friday night takeout, or that extra streaming service subscription that you're no longer using. A common strategy is to look at your budget and break it down using the 50-30-20 rule, which recommends that you spend 50% of income on needs (for example, food, housing, transportation, healthcare, clothing, childcare and education), 30% on wants, and 20% on savings or debts. Learn more budgeting tips and find our financial learning tools (blogs, podcasts, calculators and virtual education) at LMCU.org/FinancialWellness.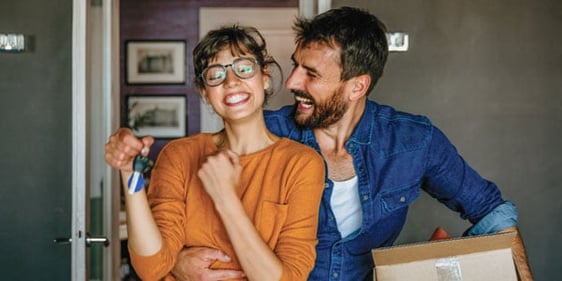 Another way that you can reduce your expenses is by negotiating lower rates on your cable/internet, phone plan, and insurance policies (auto, renter's, etc.). Then, you can put that saved money into your dedicated down payment savings account or LMCU checking account.
Refinance your debt.
You also boost your savings by managing your other debt. From transferring your credit card debt to a lower interest rate card like our nationally top-rated Prime Platinum Visa** to refinancing your car loan to a lower rate, you could potentially save hundreds or reduce the amount of time it will take to pay off your debt.
Receive a gift and/or put your tax refund to work.
Monetary gifts can be used for your entire down payment.*** A donor could be an immediate family member, domestic partner, or fiancé.
If you often get a nice amount back on your taxes, put all or part of your tax refund away into savings so it's ready when you finally find the home of your dreams.
Consider low down payment or down payment assistance programs.
You might be eligible to receive money towards your down payment thanks to our down payment assistance programs or put as little as 0-3% down**** with our low down payment programs.
If you're ready to finance the home of your dreams, connect with one of our expert loan officers or call (844) 754-6280 to get started.
*Source: National Association of Realtors 2021.
**Top low ongoing rate credit card. Kiplinger, April 2021.
***Gift money dependent on loan program. Must meet eligibility requirements.
****For well-qualified borrowers.
Research
Topics: Newsletters