Earn more. Pay less. Get going.
Learn what's happening at LMCU.
---

With home values on the rise, it might be time to put that equity to work.
Home values have been on the rise. According to the National Association of Realtors the median year-over-year home sales price rose 16.2%, to $319,200, reaching a new national record high.*
Rates are still low. If you haven't thought about refinancing, now may be the time to put the equity you've built up in your home to work. You could use that equity to consolidate debt, get rid of your private mortgage insurance (PMI), or make home improvements.

Not sure where to start?
• Pay off high interest debt.
According to Wallet Hub's Credit Card Landscape Report the average credit card
interest rate is 18.24% for new offers and 14.75% for existing accounts,** compared
to the historically low mortgage rates. If you carry a balance on your credit card or have
student loan debt, this is a great option to eliminate your high interest debt by doing
a cash-out refinance.
• Eliminate private mortgage insurance (PMI).
If you put less than 20% down on your home, part of your monthly mortgage payment goes to pay for PMI. Each month you make a payment on your mortgage, part of that payment goes to paying down the primary principal of your loan increasing the amount of equity you have in your home. Plus, if your home value has risen you may now have more than 20% in equity. By refinancing, you can reduce your monthly payment, eliminating your PMI with the equity you've built along with the additional equity driven by current market conditions.
• Add value to your home.
Maybe you're ready to add on that mud room, remodel your basement, or make room for a home office. With a cash-out refinance you can use the equity in your home to pay for improvements that may add additional value to your home.
When you're ready to get started, connect with one of our friendly experts today at LMCU.org/Mortgage or by calling
(844) 754-6280.

*Virtually every metro area experienced home prices rise in the first quarter of 2021. National Association of Realtors, May 11, 2021. **What is the average credit card rate?, WalletHub, May 16, 2021
---
Exclusive tuition discounts for members and employees.
Thinking about furthering your education and finally getting that degree you've always wanted? Thanks to special discounts at LMCU, now may be the perfect time.
Member discounts.
Members have access to exclusive tuition discounts, including 20% off tuition at Davenport University and 25% off tuition at Point Park University. Visit LMCU.org/MemberPerks to learn more.
Employee discounts.
Employees have access to exclusive tuition discounts at multiple accredited universities, in addition to tuition reimbursement to further their education and achieve their career goals. Apply at LMCU.org/Careers.
You'll love working here.
---
HBA of Western Michigan Parade of Homes.
August 5–8 & 12–14, 2021.
Thinking about renovating or building your next home?
Check out some of the latest newly built homes and builders in greater Kalamazoo by visiting the 2021 Parade of Homes. Purchase tickets at a greater Kalamazoo LMCU to save $2.
For more ticket information and a map of the homes, visit Kalamazoohomepage.com/paradeofhomes.
---
Lake Michigan Credit Union Announces Acquisition of Pilot Bank of Tampa, Florida.
Lake Michigan Credit Union announced a definitive agreement to acquire Pilot Bank, based in the greater Tampa, Florida area. With 46 branches in Michigan and soon-to-be 19 branches in Florida, our branches stretch far and wide to serve all your banking needs!
Sandy Jelinski, president & CEO of LMCU stated, "We are thrilled that Pilot Bank and NAFCO have agreed to join with Lake Michigan Credit Union, bringing together two organizations that have a shared philosophy of putting our members and customers first. This is another step in our plan to enhance our member value and experience for our many wonderful members that live in or vacation in Florida, including those in this new thriving market, as well as future new members."
To stay up-to-date on our acquisition of Pilot Bank, follow us on social media or visit LMCU.org.
---
The LMCU Bridge Run is just one month away!

Join us for our annual Lake Michigan Credit Union Bridge Run happening Sunday, September 19. Choose from the 5Kwalk/run or 10–mile run. Plus, LMCU members receive a $5 discount by using code LMCUMEMBER during registration.
Sign up today at TheBridgeRun.com!
---
Roots in Education grant.
The Roots in Education grant program is back for its second year and launching on September 1. So, mark your calendar, sharpen your pencil, sharpen your back-up pencil, and start brainstorming what teacher you want to nominate to receive one of twenty-five (25) $1,000 grants.
To learn more, visit LMCU.org/TeacherGrant.
---
Swing by and see what we've done with the place.
Grand reopening of our Rochester Hills branch.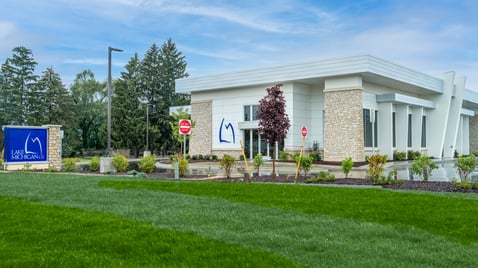 The top-to-bottom renovation of our Rochester Hills branch is now complete. Doors opened on August 2, so stop by 310 W Tienken Road in Rochester Hills or schedule an appointment at Scheduling.LMCU.org.
---
Turn every ride into a joyride with auto rates as low as 1.95% APR.*
Low interest rates turn every ride into a joyride. Whether you've finally accepted your minivan fate, or you just want every highway to feel like home, we can help. We offer auto loans that have a variety of term lengths at competitive rates to get you on the road faster. Apply today at LMCU.org/Auto or stop by any branch location.
*APR = Annual Percentage Rate. Rate as of 7/19/21 and subject to change. Best rate available to well-qualified borrowers with a credit score of 780 and above on 2014 or newer model years. Your rate may be higher depending on your credit history, loan purpose, amount, term, and vehicle year. Subject to credit and income qualification. $5 membership required if not a member.
---
Combine your home and auto and you could save $650.**
From truck beds to bed beds, Lake Michigan Insurance Agency (LMIA) has your home and auto covered. Right now, you could save $650 a year when you bundle your home and auto insurance with LMIA. That's like 210 gallons of gas or enough decorative throw pillows to rival your grandmother's guest room. And the best part is we do all the work, so you have more time for perfectly arranging your new throw pillows. Get your free quote today at LMCU.org/Insurance.
**$650 savings based on average customer savings who bundle home and auto. Your actual savings may vary.
---
LMCU Financials
As of June 30, 2021
Assets - $10,443,959,310
Loans - $6,758,805,424
Deposits - $8,956,023,066
Members - 502,124
Topics: Newsletters