Three things to know before deciding how much to put down.
How much should I put down on my new home? Can it impact my chances of getting a loan? How does my down payment affect my mortgage payment? If you're buying a new home, you probably have questions about the down payment. Here are three things to know before deciding how much to put down.
1. Your down payment is considered an investment.
The bigger your down payment, the more invested you are, and the more confident your lender will be in approving your loan. Depending on the mortgage product you choose, a larger down payment could mean a lower interest rate.


2. Anything less than 20%, and you'll be required to carry private mortgage insurance (PMI).
A down payment of less than 20% is pretty common these days, so there's no need to worry if you can't afford it. However, if you can afford to put 20% down, you won't have to carry PMI. And no PMI means no PMI payments every month, and that could save you thousands over the lifetime of your mortgage.


3. Your down payment can impact the rest of your mortgage terms.
There's no right or wrong answer when deciding how much to put down on your new home. Different loan programs require different percentages, ranging anywhere from 0% to 20%. Below are a few scenarios to consider: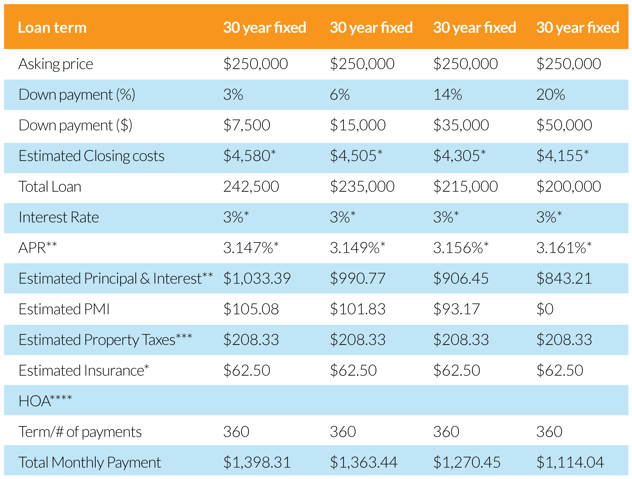 *Rates are for sample calculations only and are not representative of current mortgage purchase rates, closing costs, estimated principle,interest, and insurance. To see today's rates visit LMCU.org/rates.
**APR = Annual Percentage Rate.
**Estimated property taxes are used for example payments only and will differ based on the property location of the home.
****HOA= Home Owners Association. Calculations above do not include home owners association fees that may be applicable. Ask your realtor if home owners association fees are applicable for the property you are interested in.
See today's rates or find out what your monthly payment could look like here.

Whether you're just browsing or you're ready to move, you can now shop, finance and get a cash rebate* after close using LMCU's new Shop For a Home tool. If you're interested in taking the next step, connect with one of our Shop For A Home Loan Officers or call (833) 206-1786 to get pre-qualified.


See what homes are available in Michigan for under $250,000.
*NestReady Cash Rebate Program Conditions: The realtor buying agent must be from the NestReady network. Buyers shall receive a Cash Rebate of 0.50% of the purchase price of their property. Offer valid for purchase transactions only; refinances do not qualify. The amount will be paid after closing. Offer is subject to credit approval and underwriting and is subject to change without notice. Cash Rebate may be limited, prohibited, or reduced pursuant to the purchase agreement, lender restrictions, Federal Veterans Administration, Federal Housing Administration, and the United States Department of Agriculture loan programs, or other state or federal rules, laws, or regulations. Lender's approval is required for cash reward to be paid.
Topics: Wallet Wisdom, Mortgage