Earn more. Pay less. Go Explore.
Learn what's happening at LMCU.
---
ATTENTION: We will be closed Monday, May 31 in honor of Memorial Day.
---

It's the last month to enter for a chance to win our annual $50,000 home makeover!
What would you do if you won LMCU's $50,000 Home Makeover? Home is more important now than ever, and using the money to upgrade your kitchen, build an outdoor oasis, or add some transitional space like a home office are just some of the things you might dream up.
Enter daily* now through May 21 at LMCU.org or at your nearest branch. Anyone can win. So start thinking about which dream you'd like to make a reality and enter today.
*Contest ends May 21, 2021. You can enter once per day for the duration of the contest. Entrant must be 18 or older and a Michigan or Florida
resident. One-time entry using an LMCU ATM may become available during the sweepstakes. For a complete list of contest rules visit LMCU.org.
---
Guess who's moving in to the neighborhood?
Our new Grand Haven branch is now open. Our Ada branch will open in June.
We're excited to be serving more of our West Michigan neighbors. With a second location in Grand Haven and a new location in downtown Ada — we have two more big reasons why you'll love banking here. Choose how you want to bank with us: in-person, online, mobile, or by virtual appointment. We can't wait to meet you!
Our branch in Ada, Michigan will be located at 496 Ada Dr. SE, Suite 103, and our second Grand Haven, Michigan branch will be located at 16916 Robbins Rd.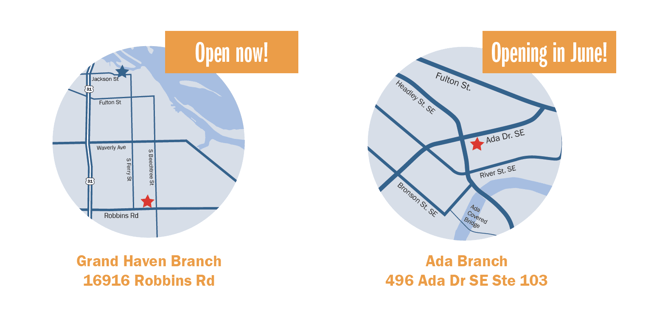 ---
Getaway weekends for whatever floats your boat, car, RV, or four-by-four.
When "Lake" is part of your name, "summer" and "fun" can't be far behind. Even if you might be staying a
little closer to home, our low rates can help you make getaway weekends a reality. Whether you're getting away to the lake, campground, or even just grandma's house, we provide auto, boat, and other recreational vehicle loans with a variety of term lengths at very low interest rates that will fit just right.

To learn more, visit LMCU.org or call us at (844) 301-8899.
---
Our low rates turn "How are we going to do this?" into "Look what we did!"
If your kitchen is working as an office, school, and…a kitchen…a home equity loan from Lake Michigan Credit Union can make your new, improved kitchen space a reality. With our low rates starting at 3.00% APR,* now's the time to take that step – into that renovated kitchen, or maybe a home office or bigger deck, so you can make your life at home fit just right.
$0 closing costs (in most cases)**
$0 annual fee
Home equity line of credit option available with interest-only payments.
To learn more, visit HomeEquity.LMCU.org, call (844) 301-8899, stop by your local branch or schedule a virtual appointment at Scheduling.LMCU.org.
*APR = Annual Percentage Rate. Rate as of 3/31/21 and subject to change after account opening. Best rate available to well qualified borrowers with under 80% Combined Loan to Value (CLTV). Assumes auto-pay from LMCU checking account. Your rate may be higher based on your specific CLTV, term, and credit score. HELOC rates are variable and based on the current index margin; rates will not exceed 12%. Home Equity loans are available for properties located in Michigan and Florida. Fees may differ in Florida. Terms, loan amount maximums, and other restrictions apply. Call or see branch for details. $5 membership required if not a member. **If home value is not available through LMCU's Automated Valuation Model, an appraisal may be required. Certain unique property acquisitions including inherited or newly constructed homes may require full title.
---
Parade of Homes is coming soon.
If you are considering building your next home or renovating, check out a Parade of Homes near you. Peek inside the most beautiful, newly constructed homes in Michigan. These self-guided tours feature work from some of the area's best custom home builders.
HBA of Southeastern Michigan
June 1–30
FREE event. Pick up your FREE HBA of Southeastern Parade Magazine at an LMCU Southeastern Michigan branch. Lakeshore
HBA Parade of Homes
June 3–12
Tickets are $15 if purchased at the home, at Lakeshore HBA, or online. $12.50 if purchased at an LMCU Lakeshore branch ($2.50 discount). Children 13 and under are free.
The Home Builders Association of Greater Grand Rapids Spring Parade of Homes is happening:
June 4–12
Fridays and Saturdays | 1 p.m. to 9 p.m.
Monday – Thursday | 4 p.m. to 9 p.m.
LMCU members and non members save $5 when you purchase tickets at any of our LMCU greater Grand Rapids or Lakeshore branch locations. $10 | Tickets purchased at LMCU Grand Rapids and Lakeshore branches. $15 | Tickets purchased at parade homes. Tickets for children under 12 are FREE.
For more information visit myGRhome.com.
Enter to win a pair of tickets to this year's HBA of Greater Grand Rapids Spring Parade of Homes at LMCU.org/MemberPerks from May 10-25. Winners will be contacted by email on May 27.
---
Michigan Saves
Tap into cleaner power for your home.
Upgrading your home to be more energy-efficient doesn't have to be costly. LMCU has partnered with Michigan Saves, to make clean energy accessible and affordable with rates as low as 3.99% APR.***
Visit LMCU.org/MichiganSaves to get started.

***APR = Annual Percentage Rate. Rate as of 2/8/21 and subject to change. Best rate available to well-qualified borrowers with a credit score of 720 and above and loan amounts of $14,999 or below. Subject to credit approval and income qualification. Other rates and terms available, contact us for more information. $5 membership required if not a member.
---
Little Heroes. Big Hope.
Our Band Together campaign is officially underway! Last year, with your help, we raised over $50,000 for our Healthcare Heroes in the midst of the COVID-19 pandemic. This year, our goal is to raise even more, but specifically for our little heroes. Things may look different from what we're used to, but the need to care for the kids in our communities is as great as ever. Let's Band Together for kids' care and give our communities' little heroes…big hope.
Donations can be made through Online Banking or at your local branch.
---
Announcing the 2021 Hutt Winners
Congratulations to LMCU's Lloyd F. Hutt Scholarship contest winners!
After receiving 1,346 scholarship submissions, the winners of this year's Hutt Scholarship essay contest have been selected. The 20 winners will each receive a $2,000 scholarship.
Since its inception in 1990, the Lloyd F. Hutt Scholarship has awarded $461,500 in scholarships to help further educational excellence. Thank you to all who entered, and congratulations to this year's winners!
Kaia Cooper | Ravenna High School
Lydia Derks | Traverse City West Senior High School
Lynlee Derrick | Forest Hills Central High School
Katie Donahue | St. Francis High School
Alayah Dudley | Jenison International Academy
Annie Garcia | Okemos High School
Jordan Hochman | Community School of Naples
Ashley Kluting | Coopersville High School
Yzabella Lab | Lakewood High School
Sydney Osterberg | Rockford High School
Madeline Peoples | Comstock Park High School
Annabelle Rickert | Thornapple Kellogg High School
Rachel Schenck | Forest Hills Central High School
Elaiyna Schwartzkopf | Calvary Baptist Academy
Katelyn Turner | Zeeland East High School
Livvie VanEss | East Grand Rapids High School
Grace VanZanten | iCademy Global
Reagan Voetberg | Portage Central High School
Joey Whitmore | Rockford High School
Daphne Yaman | Mattawan High School
---
Shred Day
Cut through the clutter with Shred Your Stuff days.
LMCU's Shred Your Stuff days continue through May and June! Bring your old paper documents
(6 boxes maximum) to any of the events noted below and we'll shred and dispose of them for free.
Stay up to date on event times and locations in your area at LMCU.org/MemberPerks.
MICHIGAN LOCATIONS:
Saturday, May 15
Portage Branch
4084 W Centre Ave
9 a.m. - 11 a.m.
Saturday, June 5
Farmington Hills Branch
34391 W 12 Mile Road
9 a.m. - 11 a.m.
---
LMCU Ballpark Opening Day is May 11!
Whitecaps baseball is back in full swing. It's time for hot dogs, warmer weather, and tons of fun for the whole family. Stay tuned to our social media for announcements regarding exclusive special events and ticket discounts for LMCU members. Play ball!


---
Steps to make building your dream home a reality.
Your careful planning and preparation and our low mortgage rates can help make building your own home a reality. But first, you'll want to make sure you're really ready by following these important steps.
You can also visit LMCU.org/FinancialWellness to learn even more or use our handy calculators to see what it will take to open the door to your new address.
Make sure your finances are in order
Add up your monthly expenses — credit cards, auto loans, student loans, current rent or mortgage — and divide that by your gross monthly income (income before taxes) to determine your debt-to-income (DTI) ratio. This number will help you determine how much home you can afford. The lower your ratio, the better. Ideally, you want your DTI ratio to be 43% or lower.*


Assess your savings
Even buyers with good credit should expect a 5%** down payment (10%** down in Florida), plus an extra 15-25% for finishing costs like landscaping, a mailbox, or fencing. At Lake Michigan Credit Union, we have low down payment options, and our one-time close construction loan will save you money in closing costs.


Determine how much of a monthly payment you can afford
It's not just your home you're paying for each month. You'll also need to pay property taxes, insurance, homeowner's association fees, city assessments, water, sewer, garbage, utilities, and repairs. All of these expenses should be taken into consideration when planning your monthly budget.


Balance the gotta-haves with the nice-to-haves
To make sure you get everything you need AND want, make a list of both. In the "needs" category, list the features your home must have, like air conditioning and four bedrooms. In the "wants" category, list luxuries like a fireplace in the bedroom and an in-ground pool. When you're all done with the needs, make sure you have enough left over for the wants.


Consider both buying new and building new
Most builders have homes that are already built and move-in ready. If timing is important, there are great financing options with down payments as low as 3%*** that can get you into that newly built home that checks most of your boxes fast.


Know the neighborhood
If you're already looking at homes in a specific area, consider what the traffic is like (and not just at 8 a.m. on a Sunday morning). How are the schools? Any railroad tracks or airports nearby that could be a nuisance? Remember, you're not just purchasing the house, you're buying into the neighborhood.

If you're still ready to build, do your homework before picking a lender. Not all financial institutions offer the same loans or charge the same fees. LMCU is Michigan's number one construction lender**** and we've helped thousands of homeowners.
Visit LMCU.org/Mortgage or call us at (844) 754-6280 to get pre-qualified.

*Credit Karma, 2020.**For well qualified borrowers.***For well qualified borrowers. ****Marketrac, February 2021.
---
LMCU Financials
As of March 31, 2021
Assets -$9,999,115,720
Loans -$6,466,707,817
Deposits -$8,605,298,908
Members - 495,295
Topics: Newsletters