Earn more. Pay less. Get outside.
Learn what's happening at LMCU.
---
ATTENTION:

LMCU will be closed Monday, May 30 in accordance with the Federal Reserve's 2022 schedule.
LMCU News will now be published quarterly. Look for our next issue in July 2022.
---
Announcing the 2022 Hutt Scholarship winners!
After receiving 1,440 scholarship submissions, the winners of this year's Hutt Scholarship essay contest have been selected. The 20 winners will each receive a $2,000 scholarship. To view the winners and read their essays, visit LMCU.org/Hutt.
Since its inception in 1990, the Lloyd F. Hutt Scholarship has awarded over $500,000 in scholarships to help further educational excellence. Thank you to all who entered, and congratulations to this year's winners.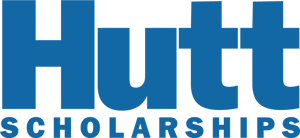 Meet D'Mac.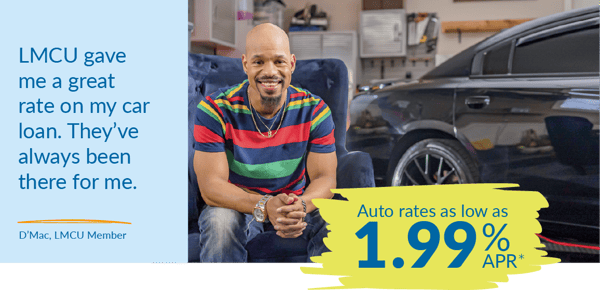 He's a car guy. His boys are car guys. When D'Mac found the perfect car for them to work on together, he went to LMCU for the loan. He's been a member for years and knew LMCU would take care of him. Now he's able to put all the money he's saving on his loan into upgrades for the car and spending time with his boys.
Do like D'Mac did. Financing your vehicle purchase with LMCU can save you hundreds or even thousands over the life of your loan, so you can be sure you're not being taken for a ride. Visit LMCU.org/Auto or call (844) 301-8899 today.
*APR = Annual Percentage Rate. Rate as of 4/1/22 and is subject to change and includes a $15 loan servicing fee. Best rate available to wellqualified borrowers with a credit score of 780 and above on 2015 or newer model years. Your rate may be higher depending on your credit history, loan purpose, amount, term, and vehicle year. Subject to credit and income qualification. $5 membership required if not a member. D'Mac is an LMCU member and was compensated for his participation.
---
Join us for LMCU Member Nights with the Whitecaps!

We have four LMCU Member Nights planned this season, full of fun for the whole family.
June 10: Teenage Mutant Ninja Turtles Night
July 15: Las Calaveras de West Michigan and Fireworks
August 24: Made in Michigan Wednesday featuring Cecil Fielder and Fireworks
September 11: Final Home Game and Fireworks
LMCU Member Night packages will be available in Online Banking. You can also keep an eye on our social media pages for updates.
---
It's not too late to take advantage of Shred Your Stuff Days.
Dispose of sensitive documents easily and securely at one of our Shred Your Stuff Day events. Bring up to six boxes of documents and we'll shred them for free.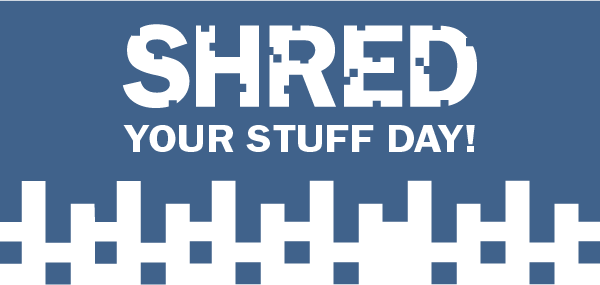 Saturday, May 7 | 9 a.m. – 11 a.m.
Rochester Hills, 310 Tienken Rd. Rochester Hills, MI
Saturday, May 7 | 9 a.m. – 11 a.m.
Portage, 4084 W Centre Ave. Portage, MI
Saturday, May 21 | 9 a.m. – 11 a.m.
Traverse City, 3650 N U.S. 31 S. Traverse City, MI
---
Michigan Parade of Homes events are coming soon.
If you are considering building your next home or planning a renovation, check out a Parade of Homes near you. Peek inside the most beautiful, newly constructed homes in Michigan for inspiration. These self-guided tours feature work from some of the area's best custom home builders.
Grand Rapids Spring Parade of Homes | June 17-25
Discounted $10 tickets are available at Grand Rapids and Lakeshore LMCU branches. $15 tickets are available at the event. Children under 12 are free. Visit paradeofhomes.mygrhome.com for more information.
Lakeshore Parade of Homes | June 2-4 & 10-11

Discounted $10 tickets are available at Lakeshore LMCU branches. $15 tickets are available at the event and online. Children 13 and under are free. Visit lakeshoreparadeofhomes.com for more information.
2022 Parade of Homes of Southeastern Michigan | June 1-30
Free event. Pick up your free HBA of Southeastern Michigan Parade Magazine at any Southeastern Michigan LMCU branch.
---
Enter the $50,000 LMCU Home Makeover Giveaway daily!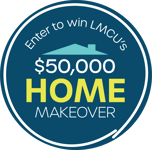 Enter daily from now until Friday, July 8 to increase your chances of winning.
Three ways to enter:
1. Daily at LMCU.org
2. In branch
3. Once, at most LMCU ATMs

Contest ends July 8, 2022. You can enter once per day for the duration of the contest. Entrant must be 18 or older and a Michigan or Florida resident. One-time entry using an LMCU ATM may become available during the sweepstakes. For a complete list of contest rules visit www.LMCU.org.

LMCU Financials
As of March 31 , 2022
Assets | $12,111,327,377
Loans | $7,788,905,847
Deposits | $10,558,316,252
Members | 523,756
Topics: Newsletters