The holiday countdown has begun.
Soon Halloween will arrive and, days after, retail stores will immediately change displays and advertising over to winter holidays. The average consumer spends around $1,000 during the holiday season, according to the National Retail Federation. Perhaps COVID-19 has changed your financial situation this year. Now is a great time for families to think about saving up before the winter holidays.
Make a Plan
Deciding on a budget ahead of the holidays – and sticking to it – will reduce your chances of overspending. You can set an overall budget for your entire gift list, or set a price limit for each individual gift. Remember to set your holiday budget for what is financially comfortable for you. When deciding on your budget, don't forget to factor in extra costs like shipping, postage, and wrapping of gifts.

Also, save your receipts to help you keep tabs on your spending habits throughout the season. The LMCU mobile app also makes things like tracking spending, setting budgets, and checking your account balances on the go a breeze.
Start Saving
After you've determined how much money you're planning to spend this holiday season, sit down to create a monthly budget. For example, if you plan to spend $1,000 for the holidays, and there are 12 weeks left until the holidays, and you get paid bi-weekly, plan to set aside about $167 per paycheck from now until the holidays.

Here's a quick reference on how much to put away weekly over 12 weeks to save up for the holidays: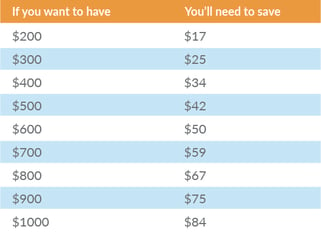 Lake Michigan Credit Union has a few ways to help you simplify the process of setting this money aside, you can set up a new share and have the monthly automatic transfer from share to share on set days of the month.

We also offer a holiday club account, which is a great option if you like the idea of stashing a smaller amount away over the course of the entire year. The account earns interest and automatically deposits into your designated checking or savings account on September 30, just in time for you to begin your holiday shopping.
Make a Few Changes
Trimming a few monthly expenses is another way you can set money aside for the holidays. Maybe you could live without one of your movie, music, or TV streaming subscriptions for the remainder of the year. Perhaps you're paying for a subscription you didn't even realize you're still paying for.

Set aside some time and conduct an audit of all the subscription services you pay for. You may be shocked to find out that in 2019, the average American spent $640 a month on subscriptions, according to Mint, the online budgeting tool owned by Intuit.

If you want to increase your savings fast, you could try a no-spend challenge or cut your budget by doing a pantry-only challenge and making meals out of only what you already have at home.

Saving money isn't all about cutting items in your budget, you can also increase your income. A great way to increase income is to pick up a side hustle. Many retail stores look for extra help during the holidays. You could also pick up odd jobs on Fiverr or TaskRabbit, drive for Grubhub or Lyft, or clean out your closets and toy room and sell items on Marketplace.

Avoiding debt around the holidays can save you from a spending hangover in the new year. While planning this year's holidays, start tracking and thinking about how you'll save money next year. Then, find a long-term saving strategy that works for you.
Topics: Savings Tips, Wallet Wisdom, Pocket Change