Earn more. Pay less. Get going.
Learn what's happening at LMCU.
---

$50,000 HOME MAKEOVER GIVEAWAY WINNER!
Congratulations to Jamal!
Jamal of Grand Rapids, Michigan is this year's big winner! We were excited to meet Jamal and present him with a check for $50,000 on August 12 at our Grand Rapids-based corporate campus.
"I have been with LMCU for over 15 years. I always get the support I need, and it is the right place to bank for me and my family." — Jamal B.
Jamal was selected out of 1,093,779 entries! We want to thank everyone in Michigan and Florida who entered this year's $50,000 Home Makeover Sweepstakes.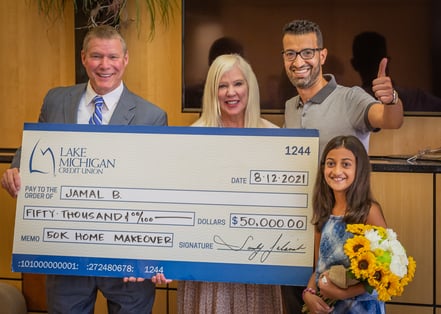 Pictured left to right: Don Bratt (CMO, LMCU), Sandy Jelinski (CEO/President, LMCU), Jamal B. (winner) and daughter.
---
Wallet Wisdom Financial Wellness
Make sense out of planning for retirement, saving for your kids' college education, or starting your own business. All in one place. All for free. Plus, by completing at least one playlist of interactive learning content from now until September 30, 2021, you will be automatically entered into a drawing for a chance to win one of five $100 Amazon gift cards.
Learn more at LMCU.org/FinancialWellness.
---
Now accepting Roots in Education nominations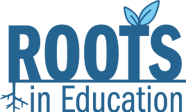 LMCU's Roots in Education program awards twenty-five (25) $1,000 grants to teachers who make a positive impact on their students and school community. We celebrate those educators who embody a particular trait. Tell us how the teacher you're nominating embodies the definition of innovative, and they could be awarded one of the Roots in Education grants to help purchase school supplies, aid in online learning, or anything else that benefits the educational process.
Eligibility is open to Pre-K through 12th grade classroom teachers in Michigan and Florida.
Full eligibility and program details can be found at LMCU.org/TeacherGrant. Nominations will be accepted September 1-26, 2021.
Thank you to all our innovative teachers.
---
How to choose the right financial partner for your business
As a business owner, you know the importance of choosing the right financial partner to make sure your operations run smoothly, your growth is optimized and you're adequately covered from risk.
Here are four things to consider when identifying the right financial partner.
1. Look for stability.
LMCU is member–owned and has been around since 1933. We've grown to over 500,000 members. That's over half a million votes of confidence.
2. Look for scalability.
LMCU has over $10 billion in assets so we know a thing or two about growth. We are large enough to keep up with your business needs but still firmly believe in the importance of local leadership and underwriting.
3. Look for experience.
LMCU has experienced commercial lenders, treasury management officers and insurance agents. We have local experts in our markets who can help identify exactly what your business needs, and just as important, what it doesn't need.
4. Look for tailored solutions.
LMCU has a large suite of products and services to fit any size business, but getting the right mix of solutions for your business is critical. Our commercial banking team will learn about your business and work with you to put the right mix of products in place to help you achieve your financial goals both today — and in the future.
It all starts with a simple conversation. Get started at LMCU.org/Business.
---
The LMCU Bridge Run is September 19th

Sign up and lace up because the Lake Michigan Credit Union Bridge Run is just around the corner. The event features a 5K walk/run or 10-mile run and takes you through downtown Grand Rapids over several historic bridges on the Grand River. Plus, LMCU members receive a $5 discount on their registration using the code LMCUMEMBER.
Sign up today at TheBridgeRun.com!
---
LMCU supports the arts in GR.
Thousands of art enthusiasts will soon be filling the streets of Grand Rapids, Michigan as ArtPrize 2021 gets underway, September 16 through October 3. For 18 days, art is exhibited throughout the city in public places, parks, museums, in galleries, storefronts, and on bridges.

LMCU is proud to support two other September events in Grand Rapids. Join us on Calder Plaza the weekend of September 17-19 for Performance+, by Festival of the Arts. Additionally, LMCU will be a partner of the African American Arts and Music Festival being held on Saturday, September 25 at Celebration Cinema's Studio Park. We hope to see you there!
---
Cut through the clutter with Shred Your Stuff Days.
Time to get rid of that growing pile of sensitive documents that are clogging up your files…and drawers…and baskets. But don't just toss them into the trash, because that's how identity theft can happen. Bring your old paper documents (6 boxes maximum) to any of the events noted below, and we'll shred and dispose of them for free.

Visit LMCU.org/MemberPerks for Shred Day updates.
Date

Time

Location

September 18

8:00–11:00 a.m.

LMCU Ballpark
4500 W. River Dr., Comstock Park
September 25

8:00–10:00 a.m.

Robbins Road Branch
16916 Robbins Rd., Grand Haven
---
What you should know about financing a fixer-upper.
According to CoreLogic®, home prices nationwide saw a year-over-year increase of 17.2% in June 2021 and a month-over-month increase of 2.3%, when comparing May 2021 to June 2021. As home prices have risen and available home inventory remains low, many existing and potential new homeowners are prioritizing geographic location with a willingness to renovate to achieve their dream home. Some homeowners may be staying put and looking to renovate their existing home, while others are considering new home purchases that may require renovation.

If this is you, consider these tips before you begin the process of renovating your current home or purchasing a new home that you plan to renovate:
1. Attend the inspection if purchasing the home.
If you are purchasing a new home, it is always a good idea to attend the inspection with the inspector. This will give you a good picture of what may need attention, either immediately or in the years to come, when deciding what to take on regarding the renovation process.
2. Pad your budget and then some.
Many homeowners underestimate the cost of their renovation. Even if you've crossed all your t's and dotted all your i's, when you are renovating an existing property you never know what challenges may arise. When developing your budget, consider padding it by an extra 15-20% to plan for the unexpected surprises that may be lurking in your renovation.
3. What type of renovation are your dreaming of?
Bathroom renovation or adding a room? Depending on the size and scope of your project, you likely have several different financing options to consider, each with their own distinct advantages.
4. Decide if the project will be a do-it-yourself (D.I.Y.) or if you'll be hiring it out.
If the project is more of a D.I.Y., you might want to take a look at utilizing the equity you've built up in the home and consider doing a cash-out refinance or taking out a home equity loan. For larger renovations, which include expanding your kitchen, a renovation mortgage may be the best way to go. Our expert loan officers can review the benefits of each option and help you determine which loan is the best for you.
5. Consider your financing options.
There are many options to consider when determining how to finance your fixer-upper. Depending on the size and significance of the renovations you are considering, looking into all of the options will help get the most out of your renovation dollars.
• Renovation Mortgage.
If you found the home you love or you already own it but are looking to do a major renovation, we have multiple mortgage options to consider. Our renovation mortgage provides up to 97%* financing on your home and up to 75% of the "after completion" appraised value of the home. If you go this route, you will need to secure a certified builder to complete the renovations. For those who may want to do all or some of the renovation work, a home equity option should be considered.
• Put the equity you have built up in your home to work by considering:
1. Cash–out refinance.
Mortgage rates are at historic lows. With home values on the rise, it might make sense to consider refinancing to a lower rate and pulling out the equity in your home, using this extra cash to pay for your renovation.
2. Home Equity Line of Credit or Home Equity Fixed Loan.**
If you own your home and you want to make updates as you go, a Home Equity Line of Credit ("HELOC") might make sense. A HELOC can work like a credit card – but you're borrowing against your home's equity at a much, much lower interest rate. You are able to borrow money month-by-month, and as you repay the balance, the funds become available again. If you have your project scope and cost pre-determined, a Home Equity Fixed Loan might be the way to go, as you can borrow one lump sum of money for a set purpose.
Ready to get started? Contact one of our friendly loan officers at (844) 754-6280 or visit LMCU.org/Mortgage to get pre-qualified before you begin your house hunting and talk through the best financing options for you.
Bonus tip:
When deciding which renovations are worth it, here are four renovations that have yielded a great return on average in 2021 according to the 2021 Cost vs. Value report from Zonda Media,*** a housing market research and analytics firm:
1. Garage door replacement showed a 94% return
2. Manufactured stone veneer showed a 92% return
3. Kitchen remodel costs recouped on average 72%
4. Adding a back deck resulted in a 66% return for wood and 63% for vinyl
* For well-qualified borrowers. ** Home Equity loans are available for properties located in Michigan and limited counties in Florida. *** 2021 Cost vs. Value Report, Zonda Media. www.remodeling.hw.net/cost-vs-value/2021/.
---
Life insurance as unique as your life.
September may be National Life Insurance Awareness Month, but at Lake Michigan Insurance Agency, it's every month, 365 days a year. We dive deep into the details of your insurance needs before recommending a policy that's just right for you and your family.
If something happens to you, will your kids need money for college? Will your spouse need help with the mortgage? What about credit cards? We consider every detail before crafting a life insurance plan that's just right for you and your family. Get a free quote by visiting LMCU.org/Insurance or call (616) 234-6979.
---
LMCU Financials
As of July , 2021
Assets - $10,597,206,374
Loans - $6,808,760,859
Deposits - $9,080,292,257
Members - 504,412
Topics: Newsletters