They bought a great home 10 years and 2 kids ago that needed renovations. When it came time to start on the basement for more space, the project required more than the just the two of them and their time on weekends. Members for over 10 years, they walked into the branch one afternoon and walked out with their perfect solution…a home equity line of credit from LMCU. Four dinner parties, 27 play dates, and 8 visits from the in-laws later, Fred and Meg are loving their new space and already planning their next home project. Hear more of Fred and Meg's story below.
Take a cue from Fred and Meg. Now is a perfect time to get started on your own home equity loan, because home values have gone up, while rates have come down. With rates as low as 3.00 % APR*, now's the time to take that step – into that home office, renovated kitchen, or extra living space you need to make life at home fit just right.
See how affordable it can be.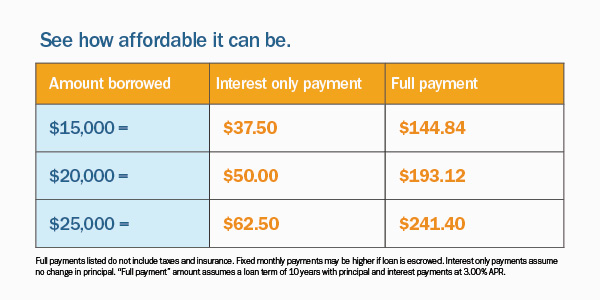 Our home equity loans feature:
$0 closing costs (in most cases)**
$0 fees
Fixed rate home equity loan option is also available
Apply now at HomeEquity.LMCU.org
Other content you might be interested in.
Home trends in 2021
Answers to your home equity questions
*APR = Annual Percentage Rate. Best rate available to well qualified borrowers with under 80% Combined Loan to Value (CLTV). Assumes autopay from LMCU checking account. Your rate may be higher based on your specific CLTV, term, and credit score. Rates as of 9/1/21 and subject to change after account opening. HELOC rates are variable and based on the current index margin; rates will not exceed 12%. Home Equity loans are available for properties located in Michigan or Florida. Fees may differ in Florida. Terms, loan amount maximums, and other restrictions apply. Call or see branch for details. $5 membership required if not a member. **If home value is not available through LMCU's Automated Valuation Model, an appraisal may be required. Certain unique property acquisitions including inherited or newly constructed homes may require full title. NMLS #442967. Fred and Meg are LMCU members and were compensated for their participation. Equal Housing Lender.
Topics: Member Stories