Earn more. Pay less. Harvest wishes.
Learn what's happening at LMCU.
---
ATTENTION: All LMCU locations will be closed Monday, October 11.
---
How a home equity helped Fred & Meg get the space they needed
They bought a great home 10 years and 2 kids ago that needed renovations. When it came time to start on the basement for more space, the project required more than the just the two of them and their time on weekends. Members for over 10 years, they walked into the branch one afternoon and walked out with their perfect solution…a home equity line of credit from LMCU. Four dinner parties, 27 play dates, and 8 visits from the in-laws later, Fred and Meg are loving their new space and already planning their next home project. Hear more of Fred and Meg's story below.
Take a cue from Fred and Meg. Now is a perfect time to get started on your own home equity loan, because home values have gone up, while rates have come down. With rates as low as 3.00 % APR*, now's the time to take that step – into that home office, renovated kitchen, or extra living space you need to make life at home fit just right.
See how affordable it can be.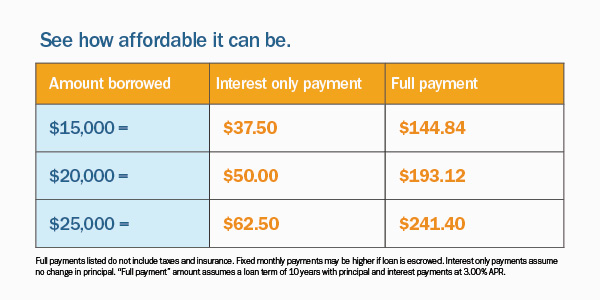 Our home equity loans feature:
$0 closing costs (in most cases)**
$0 fees
Fixed rate home equity loan option is also available
Apply now at HomeEquity.LMCU.org
Other content you might be interested in.
Home trends in 2021
Answers to your home equity questions
*APR = Annual Percentage Rate. Best rate available to well qualified borrowers with under 80% Combined Loan to Value (CLTV). Assumes autopay from LMCU checking account. Your rate may be higher based on your specific CLTV, term, and credit score. Rates as of 9/1/21 and subject to change after account opening. HELOC rates are variable and based on the current index margin; rates will not exceed 12%. Home Equity loans are available for properties located in Michigan or Florida. Fees may differ in Florida. Terms, loan amount maximums, and other restrictions apply. Call or see branch for details. $5 membership required if not a member. **If home value is not available through LMCU's Automated Valuation Model, an appraisal may be required. Certain unique property acquisitions including inherited or newly constructed homes may require full title. NMLS #442967. Fred and Meg are LMCU members and were compensated for their participation. Equal Housing Lender.
---

The Lloyd F. Hutt Scholarship program is coming soon!
LMCU was originally founded as Grand Rapids Teachers Credit Union, so we have a soft spot for education. Our annual Lloyd F. Hutt Scholarship program provides high school seniors with the opportunity to win one of twenty $2,000 college scholarships.
Applicants are required to submit an original essay answering a thought-provoking question. Winning essays are selected by a panel of independent judges.
This year's contest launches in early November. Check back soon for this year's topic at LMCU.org/Hutt.
---
See how Jim got the truck of his dreams
Jim is a truck guy. He's always been a truck guy. When he leased a truck that turned out to be not exactly what he wanted, LMCU helped make the perfect truck happen for Jim and his family. He has been an LMCU member since 2016, and from his mortgage to his savings account and accounts for his kids, Jim expected that if anyone could get him the financing he needed at the best rate, LMCU would be in his corner. Hear more of Jim's story below.
With rates as low as 1.99%, financing your auto loan with LMCU can save you hundreds, or even thousands, over the life of your loan.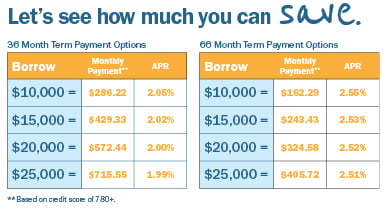 Be sure you're taking the path less expensive and apply today at LMCU.org/Auto.
Other content you may be interested in:
6 ways to simplify car buying
Jim is an LMCU Member and was paid for his participation. *APR = Annual Percentage Rate. Rate as of 9/1/21 are subject to change and includes a $15 loan servicing fee. Best rate available to well-qualified borrowers with a credit score of 780 and above on 2014 or newer model years. Your rate may be higher depending on your credit history, loan purpose, amount, term, and vehicle year. Subject to credit and income qualification. $5 membership required if not a member.
---
October is National Financial Planning Month.
Whether you're looking to start an emergency fund, prepare to buy your first home, or save for retirement, LMCU's Wallet Wisdom educational learning tools can help you get ahead on planning for the financial future that works for your goals.
Learn more at LMCU.org/FinancialWellness.
---
Thank you Whitecaps fans!
LMCU had thousands of members and employees attend games to cheer on the West Michigan Whitecaps during this historic first season at LMCU Ballpark. It was a wonderful year to kick off our partnership with the Whitecaps: offering discounts to members, seeing the stands fill again, hearing the crack of the bat, enjoying a hot dog and cold drink, and watching Crash entertain the crowds!
Thanks for your support and see you back at the ballpark in the spring. Go Caps!
---
Parade of Homes is coming soon.
The Home Builders Association of Greater Grand Rapids Fall Parade of Homes is happening:
October 1 – October 9
Monday – Thursday | 4 p.m. to 8 p.m.
Fridays and Saturdays | 1 p.m. to 8 p.m.
LMCU members and non members save $5 when you purchase tickets at any of our LMCU greater Grand Rapids or Lakeshore branch locations.
$10 | Tickets purchased at LMCU Grand Rapids and Lakeshore branches.
$15 | Tickets purchased at parade homes.
Tickets for children under 12 are FREE.
For more information visit myGRhome.com.
---
Thanks for running with us!
The streets of downtown Grand Rapids were filled with over 2,000 runners, joggers, strollers, speed walkers, and regular walkers last month for the 2021 LMCU Bridge Run.
Thank you to the thousands of members, volunteers, and fans who joined us for this annual health-promoting event.
We can't wait to run with you next year!
---
See why we're the Best and the Brightest.
We are ranked as one of the Best and Brightest Companies to Work for.* We've also been recognized as a top performing credit union in the nation by S&P Global.** But, ask any LMCU team member what it's like to work here, and they'll tell you it feels more like a family than a financial institution.
Now hiring tellers, member service representatives, and more. We're looking for positive, customer-focused individuals who can provide exceptional service to our members at select locations in Southwest Florida, Grand Rapids, Southeast Michigan, and on the Lakeshore. Enjoy a rewarding, professional environment where you'll be encouraged to innovate and excel.
Visit LMCU.org/Careers to learn more.
*Best and Brightest Companies to Work for in West Michigan, 2021, and Best and Brightest Companies to Work for in Detroit, 2020. **S&P Global, March 2021.
---
Meet Shannon
We think you'll like her. Shannon is a busy, single mom of three. Between work and family and all the kids' activities, buying a new home seemed too overwhelming to even consider. She met with her LMCU loan officer to see what it would look like to qualify for a mortgage, and the rest is history. Now, Shannon is sipping coffee from her back deck every morning and she couldn't be happier.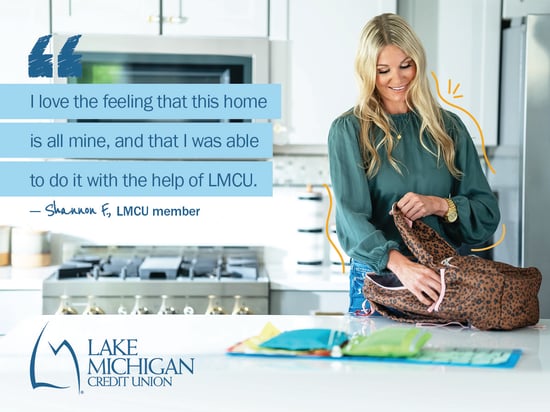 Now is your time to make a little history, just like Shannon. At Lake Michigan Credit Union we have industry-low closing costs which will help you realize your savings sooner. There's never been a better time than now for that just-right rate to put you in your just-right home.
0-3% down payment options**
Save 0.125% off your interest rate with our MaxMortgage discount***
Variety of terms to fit your budget
Open the door to your new address by contacting one of our friendly loan officers to get pre-qualified today.
Don't wait. Get pre-qualified today. Visit LMCU.org/Mortgage or call (844) 754-6280.


*APR = Annual Percentage Rate. 15-year mortgage. Fixed rate. Rates as of 8/20/2021 and are subject to change. Rate quoted assumes MaxMortgage discount. Your rate may vary depending on your specific credit terms and property analysis. Based on 80% LTV with a loan amount of $160,000, at 2.344% APR, you will pay 179 payments of $1,048.14 and 1 payment of $1,047.14 at an interest rate of 2.250%. Payments do not include amounts = for taxes and insurance premiums. If required, your payment may be higher. ARMs available. Rates may vary for ARMs. Payment and rates assume minimum credit score of 740. $5 membership required, if not a member. **For well qualified borrowers. ***To receive MaxMortgage discount, mortgage payment must be an automatic payment that comes from an LMCU checking account with an ACH deposit. Shannon is an LMCU member and was paid for her participation.
---
Medicare open enrollment is October 15 – December 7.
At Lake Michigan Insurance Agency, our Medicare specialists can guide you through the open enrollment process. Open enrollment is the only time you can make changes to your 2022 plan. We'll review your current plan and share the new options for 2022.
Learn more or schedule an appointment at LMCU.org/Insurance, email us at Medicare@LMCU.org, or call us at (866) 603-2864.
---
LMCU Financials
As of August , 2021
Assets - $10,619,021,373
Loans - $6,857,051,336
Deposits - $9,112,743,230
Members - 507,454
Topics: Newsletters